Your Newborn Session is an amazing time of love,
snuggles, kisses and milk. Lots and lots of milk! (That stuff is amazing and really puts those babies to sleep!!) This is the reason a Newborn Session lasts 2-3 hours. This allows plenty of time for lots of milk and lots of diaper changes. Here are a few guidelines to help you prepare for your session: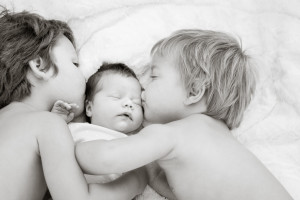 1. Keep their outfits simple. Naked is GREAT for photos.
2. Keep them awake before the session. They can sleep during it!
3. Try and wait to feed them until just before the session. I have a few things to set up once I arrive (takes about 10 min), so feel free to use some of that time to feed them too.
4. Feed them in a diaper ONLY. Cover them in a blanket. This way, we can do some of the naked pictures first while they are sleepy. Once they wake up we can put their clothes on.
I look forward to meeting your sweet little one!
Your Newborn Session is booked BEFORE the baby is born. Obviously we don't know an exact date, but I need to get it on the calender. Their session is done within their first 10 days.